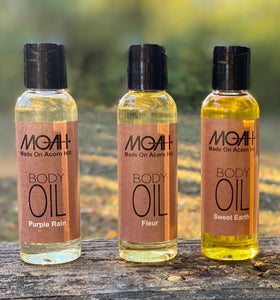 Made On Acorn Hill
Body Oil
Regular price
$10.00
$10.00
Essential Oils:
Fleur - lavender, rose, chamomile
Purple Rain - lavender 
Sweet Earth - sweet orange, lavender, chamomile 
Our Body Oil has become as essential to us as our soap.  It's a combination of oils that soothe, moisturize and soften even the driest of skin.  We keep ours in the shower to use as the finishing touch before we turn the water off.  It only takes a small amount in the palm of your hand to rub in like lotion to make a huge difference in your skin all day long.
Ingredients: 
apricot oil, sunflower oil, fractionated coconut oil, essential oils
________________________________________
 We use simply the best, natural ingredients we can find and do not put preservatives in our products.  The scent of the oils may be altered after long periods of unuse.  
---
More from this collection