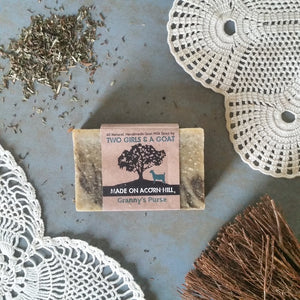 Made On Acorn Hill
Granny's Purse | Goat Milk Soap
Regular price
$6.00
$0.00
Essential oils: spearmint
Herbs: nettle
Granny's Purse is a trip down memory lane each time you smell this bar.  All those times you reached into your grandmother's purse to grab a piece of her spearmint gum will come rushing back every time you reach for this bar! 
 Add a Homegrown Loofah for just $4!
Size: approximately 4oz. 
Ingredients:
olive, coconut and palm oils (saponified), goat milk, essential oils
  ____________________________
We believe in making our soap in small batches, 60 bars at a time. We like to say that haste makes waste, so we would rather keep up our quality than to sacrifice it for quantity. You can rest assured that each bar is made with integrity and love, knowing we see it all the way from the gathering in of excellent ingredients to the wrapping of each bar by hand.
---
More from this collection