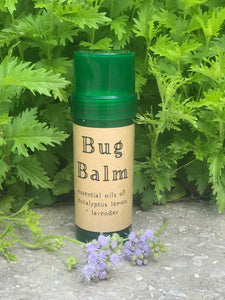 Made On Acorn Hill
Bug Balm
Regular price
$12.00
$0.00
Essential oils: lemon eucalyptus and lavender 
Bug Balm is our go to for all natural bug repellent. It's a solid tube of lotion without water, so the super concentrated, ultra moisturizing, bug-keep-away, skin restoring oils go straight into your skin with nothing to evaporate.  A little goes a long way.  In fact, just rub the bar on your skin until the warmth of your skin begins to melt the oils.  And just when you think it's magic for your hands, wait till you see how it feels on your feet!  
      Ingredients:
raw shea butter, coconut oil, beeswax, essential oils, vitamin e
________________________________________
We use simply the best ingredients we can find.  Raw shea butter, coconut oil and beeswax are natural products so variants are liable to happen.  This product will melt in hot weather.  If this happens, place in a cool room to re-solidify. 
---
More from this collection